Chairman's Message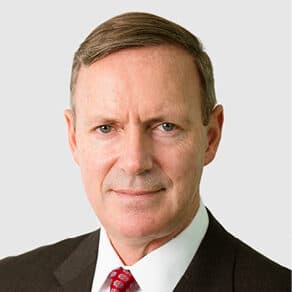 On behalf of AmCham Abu Dhabi's Board of Directors and Executive Office team, I want to thank you for your tremendous support of AmCham Abu Dhabi.

Because of the strong involvement of our members, AmCham Abu Dhabi continues to grow and offer extraordinary value to our member companies and individuals. As we look forward towards 2020, we intend to continue building from strength to strength with the enthusiastic involvement and support of our members, to continue enhancing the value proposition of membership through extensive marketing and PR support, and promoting BRAND USA through more events, briefings, joint efforts, and advocacy. Allow me to highlight some of 2019's achievements:

* The 11th Annual Industry Roundtable Summit. Our premier business roundtable summit celebrated its eleventh year, with a robust showing of over 200+ senior stakeholders, U.S. & U.A.E. entities, and leaders. The sector breakout tables have produced their outlooks and strategies for their committees' 2019-2020 objectives. The highly anticipated 2019-2020 Roundtable Summit Report will lay the groundwork for ongoing dialogue with key recommendations from the seven breakout sessions aiding in the continued cooperation between U.S. and U.A.E. policymakers. Please click here to read the AmCham Abu Dhabi Annual Roundtable Summit Report 2019-2020.

* Industry sector committees continue to build and expand. Our committees have always been the strength and main framework of our Chamber, and this year we have nine highly active, energetic committees meeting regularly to support the American business across the U.A.E.

* The Door Knock and Advocacy in Washington, D.C. Our U.S. Public Affairs Working Group under our U.S. and U.A.E. Public Affairs Committee works with a variety of strategic partners in the U.S. and MENA region, the U.S. Chamber of Commerce, the U.S.-U.A.E. Business Council, members of the U.S. government to include the Senate, House of Representatives, Department of State, Department of Commerce and others, to advocate for pro-export and pro-expat U.S. policies that protect the interests of Americans working and residing abroad. In 2019, we had a two "on the Hill events", bringing your messaging directly to lawmakers.

* Over 90 Exclusive Events provided the platform and opportunity for our members to network, connect, learn, and engage in 2019. Innovative morning briefings focused on community topics and business education; Kick-off breakfasts to major international exhibitions, our annual U.S. tax seminar, the Strictly Social evenings, and of course, the annual Independence Day Celebration and Annual Excellence Gala showcased the best of the best in our community. We have increased the number of joint events with various business councils in 2019- building bridges & cultivating the conversation with our international partners to enrich business opportunity for our members.

We will enter 2020 with a continued focus on our members; to grow and become the U.A.E.'s leading platform for U.A.E.-U.S. business know-how, leadership, and relationship building. Expect a reinvigorated focus on "Brand USA" as we promote education, further relationship building, committee driven activities, and dialogue with the U.A.E. government entities.

AmCham Abu Dhabi cannot thrive without dedicated members supporting our programs and strategic initiatives through membership, sponsorship, and active participation at our events and on our committees. To that end, I humbly ask that you renew your membership for 2020 so that we at AmCham Abu Dhabi may continue to grow together.

We are glad to announce that there will be NO membership dues increase this year. Our 2020 dues fee schedule can be found here.

Again, thank you for your continued engagement and support.
 
Very truly yours,

Jay Huston
Chairman, AmCham Abu Dhabi Board of Directors.
Effectors Lead for Raytheon Emirates Ltd, a Raytheon Technologies company.